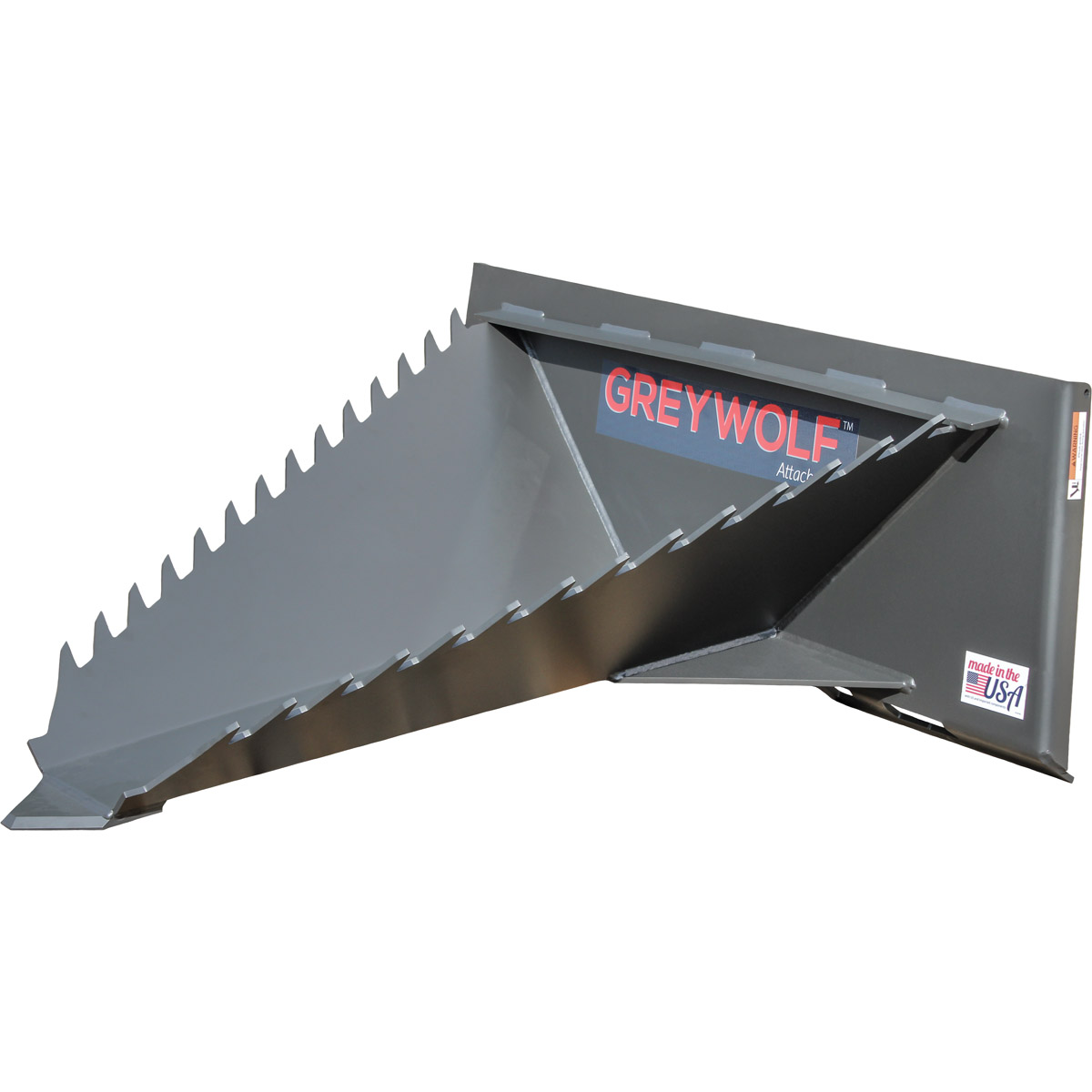 GreyWolf™ Skid Steer
Stump Bucket
The GreyWolf™ Skid Steer Stump Bucket
is built to be heavy-duty using 5/16" thick steel.
This universal quick attach plate is designed to easily dig out stubborn rocks and stumps using the power of your skid steer.
Manufacturer's 1 Year Warranty
Questions? Call (888) 872-7116
Ideal for Skid Steers or Skid Loaders with Standard Universal Quick Attachment
Dimensions

---

Weight

---

49" x 19" x 42" (W x H x L)

---

202 lbs

---
Features:
Gray powder coat finish
Heavy-duty construction
Plate constructed of 5/16" thick steel
Serrated edges for cutting roots
Reach far under stumps to tear out roots using serrated edges on side of bucket
Primarily used for prying up tree stumps, old fence posts, removing sidewalks and asphalt, and digging up ditches and swales
MADE IN THE USA
GreyWolf™ Attachments
are proudly manufactured
at K&M Manufacturing Co.
in Renville, MN.
QUALITY GUARANTEED
GreyWolf™ Attachments are built using top grade USA steel
to bring you durability &
the highest quality product.
CUSTOMER SERVICE
Our promise to you is to deliver
reliable & quality product. Every
time you order. Questions?
Call us at (888) 872-7116.
Interested in seeing more attachments?
Stay in the know by subscribing to our list to receive emails on product updates and new additions to the GreyWolf™ line!