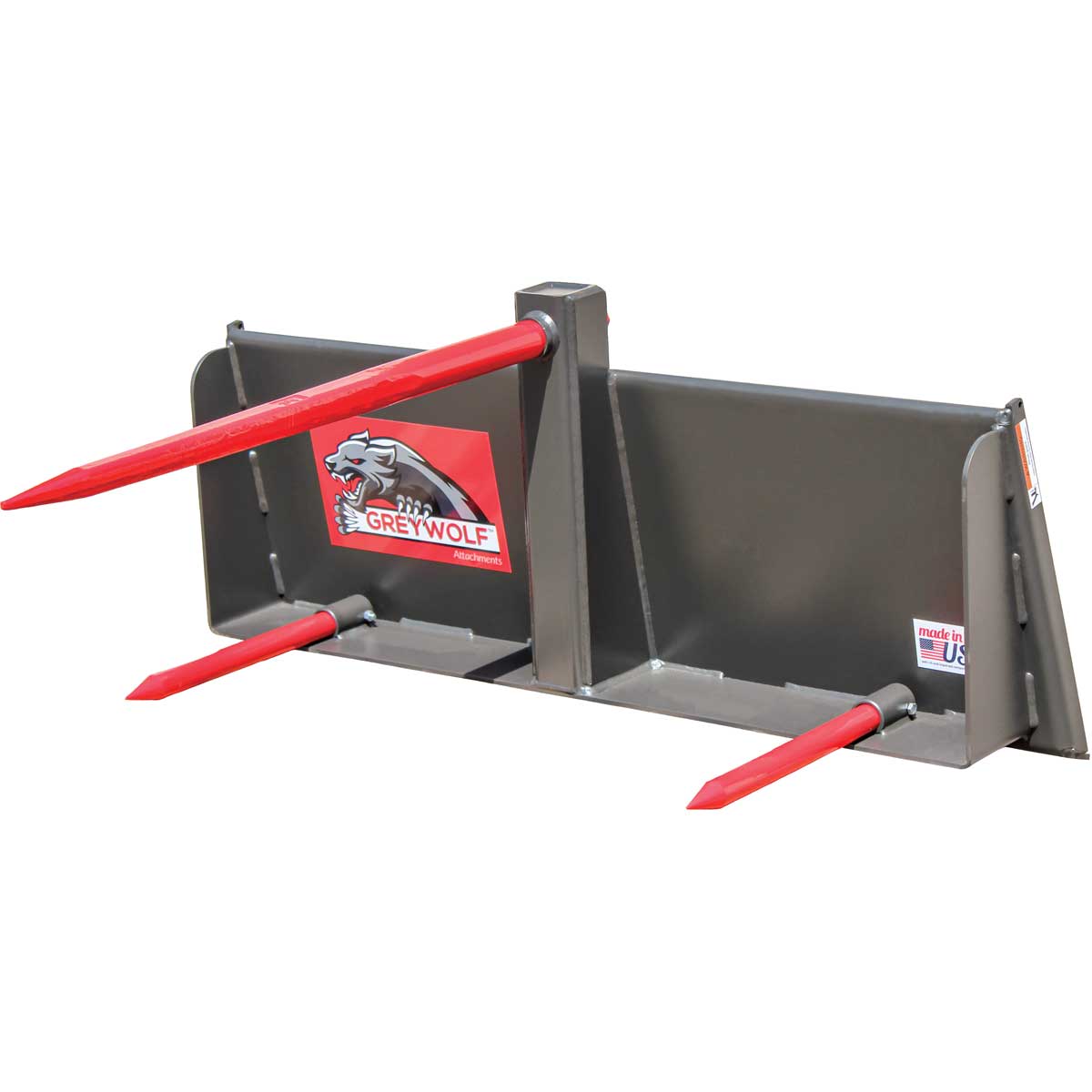 Video not specified. Please select one to display.
GreyWolf™ Skid Steer
Bale Spear Attachment
The GreyWolf™ Skid Steer Bale Spear Attachment is built heavy duty and features a mounting plate with three prongs.
This universal quick attach plate is designed
to move and stack bales of hay more efficiently
using the power of your skid steer.
Manufacturer's 1 Year Warranty
Questions? Call (800) 328-1752
Ideal for Skid Steers or Skid Loaders with Standard Universal Quick Attachment
Maximum Lift Capacity

---

Dimensions

---

Weight

---

3,000 lbs

---

49" x 22" x 43" (W x H x L)

---

190 lbs

---
Features:
Gray/Red powder coat finish
Heavy-duty construction
39" long x 1.75" diameter Conus 2 BPT spear
Two 17" long x 1.25" diameter stabilizers
Quick attach plate constructed of 5/16" thick steel
Primarily used for moving hay bales
MADE IN THE USA
GreyWolf™ Attachments
are proudly manufactured
at K&M Manufacturing Co.
in Renville, MN.
QUALITY GUARANTEED
GreyWolf™ Attachments are built using top grade USA steel
to bring you durability &
the highest quality product.
CUSTOMER SERVICE
Our promise to you is to deliver
reliable & quality product. Every
time you order. Questions?
Call us at (888) 872-7116.
Interested in seeing more attachments?
Stay in the know by subscribing to our list to receive emails on product updates and new additions to the GreyWolf™ line!